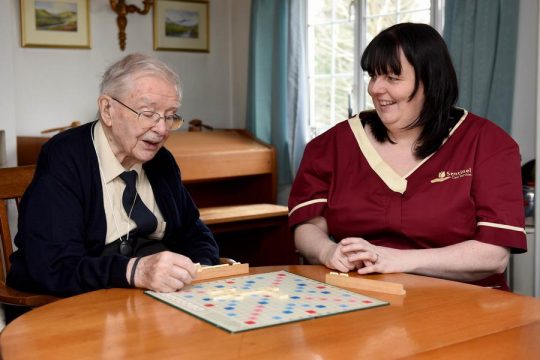 July 14th, 2016 in Blog
Our Sentinel support workers sometimes go into homes where they may be looking after one person but their spouse is still there living with them. On occasion, the person being looked after then goes into respite or into full-time care which sadly leaves their husband or wife at home alone – and often they struggle to adapt to this change.
It can be a very stressful time when one of your parents goes into respite and everyone's attention is likely to be focused on them. But often it can have a big impact on the other parent left behind so it's well worth thinking about whether they might need a little extra support too. It's easy to assume that the support workers going in is only looking after one person but often the jobs they do benefit both.
For example: if the support workers come in and reminds the person they care for it's time to take their medication, this could prompt their spouse that they also have tablets they need to take, something they might forget without that reminder and often have begun to rely upon it.
If perhaps the supported parent has always done the cooking and the support workers have taken over responsibility for this then once that help is no longer in place, the remaining parent may really struggle with preparing and cooking meals but might not want to ask for help.
A massive factor can be loneliness and going from having your spouse there 24/7 as well as support from a support worker to nothing can be an upsetting lonely experience. If you and your family aren't able to make regular visits then having someone from Sentinel pop in to have a chat with them and provide a little encouragement and support, even take them out if they're able to can make a massive positive difference at a time when they're likely to be struggling having been separated from their loved one.
If you're in the situation where the parent receiving care is likely to be going into respite, then do have a think about whether your other parent could do with having a care assessment, there is no obligation. It may be worth having an honest chat with them about how they will cope, whether there are any areas where they feel the support worker has been supporting both of them and what help they may need going forward.
Do give Sentinel a call if there's anything you'd like to discuss about getting some care in place. We will do our best to put your mind at rest and make a potentially stressful situation better by working with you to come up with a plan that everyone's happy with.