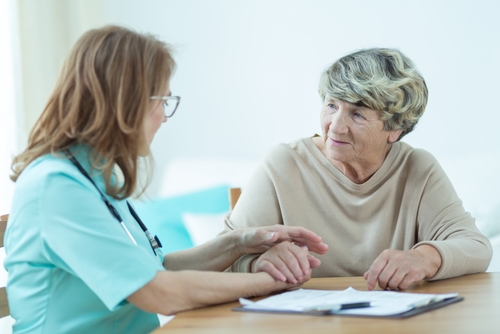 July 27th, 2018 in Blog
A trip to the doctor is something that won't cause too many of us any problems, but
spare a thought for those where age and ability in mind and body create pressures
on memory, with treatments, medicines, together with the worry about support and
transportation.
As age takes its toll, many of us start to find even the most simple of tasks a
massive challenge much of which can fall on family or friends.
Medical journeys further afield are becoming more of a necessity and people
living in Shropshire are increasingly being asked to travel to Birmingham, Stoke, or
elsewhere to attend an appointment with a consultant, to have tests or a consultation.
So, what are you going to do if your mum, who finds it difficult to get about or has
memory problems, needs to get to the doctor and you can't take them? Do you feel
guilty?
Don't worry, you can provide you mum with a professional who can report back to
you and support you mum while in attendance.
Here at Liberty Belles we can step in and ensure your mum not only keeps her
appointment but is accompanied throughout by a trained carer who will drive her
there and back and look after her during her visit.
It's all part of the service at Liberty Belles and we are only too pleased to help.
Liberty Belles was set up by Sentinel Care Services after the need for such a
scheme was identified in Telford.
It is a community service designed to keep people as independent as possible while
fulfilling their commitments away from the home. It's not just for doctor appointments,
your mum may need some help with the shopping and has trouble getting to and
from the local supermarket.
She may want to visit friends, go to church or attend the local Thursday afternoon
bingo. She may want to go out for the day to the local show and has no means of
getting there.
Liberty Belles will help mum do all these things with you and her having the peace of
mind that she is in safe, professional hands.
As they get older, people can tend to retreat in on themselves and their lack of
mobility can totally restrict them to the house as they lose confidence or the ability to
travel any distance under their own power.
Asking for help can also be a problem and we know only too well that people suffer
in silence rather than feeling they are becoming a burden or a nuisance to others.
Liberty Belles can free the shackles and allow these victims to become free again,
rebuild their confidence and regain control of their life.
Why not give us a call and let us help you?
For more information about Liberty Belles telephone 01952 219912 or email
info@yourlibertybelles.co.uk