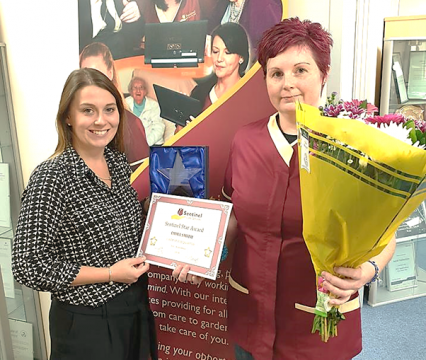 September 21st, 2018 in Blog
Here at Sentinel, we have the privilege of having some amazing people on our team. We like to do our best to recognise their efforts through our Sentinel awards.
We look forward to giving out these quarterly awards as this gives us the opportunity to not just praise our staff, but to do so publically. The awards are very special, as they are winners chosen not just by management, but also from information provided by their colleagues and customers.
We as a company are overwhelmed at the amount of pride our staff take in their jobs and at the standards of customer care they provide. The winner of this award has shown outstanding commitment to her role and eagerness to learn and improve the service.
This quarter we say congratulations to Emma Smith from our Telford team who has won our Carer of the Quarter Sentinel Star Award for July to September 2018.
Steve Harris, Managing Director has said of Emma
"It is really a pleasure to work with people who show such commitment to the role. The eagerness to do her very best for her customers is very infectious and has been a real boost within her team. Staff like Emma are what makes our company go from strength to strength."
She is based in the Telford area and has expanded her excellent care into Shrewsbury too. We have received excellent feedback for Emma in the short time she has been with us and she is already a firm favourite with customers. Emma is a much deserved winner of this accolade, having also received a special mention in the last quarter's awards when Managing Director, Steve Harris said of her
"Emma works in Telford and has only worked with us since June 5 – another of our amazing staff who has made an immediate impact. She is already fast becoming a true professional."