April 26th, 2018 in Blog
Here at Sentinel Care Services we are proud of our highly trained and dedicated staff who help us care for the needs of some of the most vulnerable people in our community.
We believe in sharing their efforts with you through our quarterly in-house awards scheme which recognise the best of the best.
Today we highlight the efforts of Shani Degnen, our Carer of the Quarter/Sentinel Star Award winner for January to March. It is the second time Shani has won the award since joining us in October 2015.
Shani was also one of four employees who picked up good feedback badges, awards that are given based on comments from our customers. The other three badges went to Julie Evans, Sally Edwards and Lin Fletcher.
Our managing director Steve Harris said: "The long-running awards are extremely important to the company and our staff. They allow us to reward excellence and raise the profile of our company in the community and the top quality service we provide to our customers.
"Shani is a fully deserved winner of our first quarterly carer award of 2018, she is an exceptional member of staff who loves her job and is extremely good at what she does in caring for customers.
"Nothing is too much trouble for her and she is always prepared to go the extra mile in ensuring the health, welfare and wellbeing of those she cares for on a daily basis.
"Shani's attitude to her job cannot be faulted and sets a marvellous example to everyone else. She has built great relationships with her customers and her team and we always get exceptional feedback for her. We are proud to have her working at Sentinel.
"The feedback badges are also vitally important to us as they are based on the service we provide to customers and what they think of us.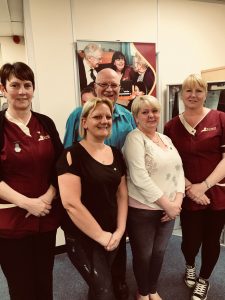 "Shani, Julie, Sally and Lin are all recipients this time around and I would like to place on record my thanks to them for their continued efforts and high standards in carrying out their roles."
Steve added: "Some of the feedback we have received includes: 'Excellent carer, goes above and beyond and stands out from the rest', 'Sincere thanks for all the work the carers do. So hard-working and kind', and 'Great carers, very professional'.
"Without staff of this calibre we would not be able to operate with the high level of success which is expected as the norm at Sentinel.
"I would also like to mention all our other hard-working members of staff whose dedication allows us to continue caring for vulnerable people in their own homes."