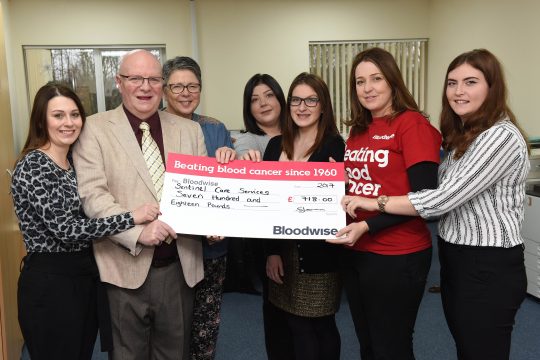 February 13th, 2018 in Blog
Here at Sentinel Care Services we take our charity fundraising very seriously.
For the last two years we have teamed up with Bloodwise and arranged a number of events to raise vital money for this very deserving cause.
As we embark on our third year of fundraising for the charity our operations officer Stephanie Bodkin has come up with a marvellous idea which could see more funds being raised for Bloodwise – the launch of a business fundraising group which will unite all those businesses, groups and individuals who have helped the charity in the past.
Stephanie's plan would see group members supporting each other in fundraising efforts throughout the year, meeting regularly to pool information and share ideas on the best ways to raise money for charity.
Those involved in the new collective would promote fundraisers through websites and social media, opening up individual events to a much wider audience.
Stephanie has put together a letter outlining her idea and this has been circulated to everyone who supports Bloodwise, pitching the idea of the new collaboration.
Stephanie said: "We are very active fundraisers for Bloodwise and are now entering our third year with them as Sentinel's chosen charity.
"During the last two years we have raised just under £2,000 and are now looking to give our fundraising efforts a boost.
"We have worked very closely with Bloodwise during this time and after speaking to them I have decided to try and put together a fundraising group of individuals and small businesses in Shropshire and Wolverhampton who have previously supported the charity.
"My thoughts are that we can all help each other. Sentinel holds a few events each year and I believe our fundraisers could raise so much more if we were part of a group of other people doing the same thing – we could all lend support to each other.
"This doesn't need to be a major obligation and I don't see it requiring too much of anybody's time. I believe a little effort from each member would go a long way and help to raise important funds for Bloodwise.
"Members of the new group would hold at least one charity event each year, big or small, and every group member would get involved by lending support to each other's events.
"This support could be done through promotion on websites, social media and blogs, attending and helping with events, selling tickets for draws and raffles, getting sponsorships and any other way they can help.
"Each event will raise money for Bloodwise and each member would lend support through ideas and sharing success stories. I would hope the new group would meet up at least twice a year to discuss upcoming events and ideas and at the end of each year there would be a cheque presentation to Bloodwise.
"I am asking anyone interested in forming this business fundraising group or anyone wanting further information about the plans to email me at stephanie.bodkin@sentinelcareservices.co.uk or telephone 0800 0936987.