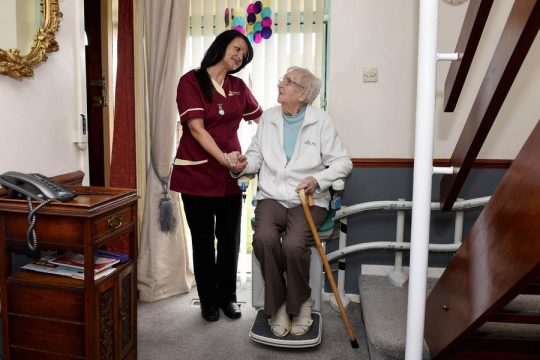 July 14th, 2016 in Blog
My loved one has been diagnosed with dementia – can they continue living in their own home?
The time immediately after a dementia diagnosis can be extremely worrying for all involved. One of the most concerning things can be wondering whether your loved one can continue to live at home – especially if they've always been independent or they've been there a long time, it can be stressful thinking about them moving out and into care.
But the good news is, in a lot of cases we can support you to enable your loved one to carry on living at home.
In general people can live well with dementia and with family, professional and technical support, it is not uncommon for them to live a long and healthy life.
Following the diagnosis the mental health team will give you good advice and they should sign post you to lots of support groups and local assistance.
Another first step would be to help them get a care package put together for them by helping them to think about how often they might need support, how long their sessions with our carers should be and of course what they want the carers to do for them.
It's important to remain active and mentally stimulated. Many of our customers say they've never been so busy and active since being diagnosed – we can help with this.
Our support can be largely practical if needed, focused on making meals for them, washing and dressing them, getting them out of bed in the morning and even bringing their prescriptions to them and reminding them to take their medication. We can also help with making changes within their home: perhaps introducing systems which will make it easier for them to move about or remember where things are.
But a big part of our care is social rather than practical and this is where those with dementia can really benefit. Simple things like providing a friendly face for them to talk to on a regular basis, reminiscing with them about their younger days and getting them to recall memories from the past can be essential to helping them. And if they're able to we can keep them involved in all the hobbies they like doing, whether it's a walk, a trip out somewhere or a pastime they enjoy in the home. The benefits of keeping your mind active are well noted and that shouldn't stop because a diagnosis has been made.
If you think your loved one could benefit from some support within their own home, why not give us a call today and we can start talking through what Sentinel can help them with?