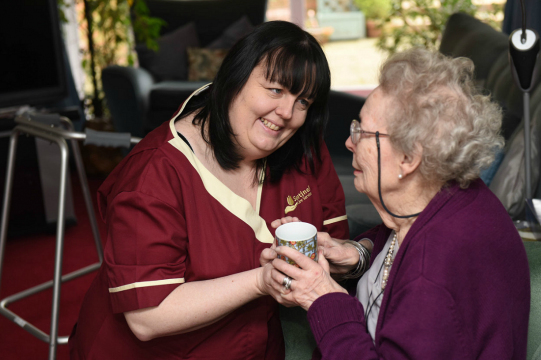 October 17th, 2016 in Blog
In the care industry, our business relies on the hard work and dedication of our support workers. Our customers need a friendly and cheerful face to brighten their day and support their needs.
But we can only carry on doing that work effectively if enough people come forward who want to become support workers in a growing and rewarding industry.
At Sentinel we're proud to have a diverse range of staff coming from many different backgrounds, all of whom are excellent carers putting clients at the forefront of everything they do.
But one thing we find can put potential carers off is feeling they may be too old for the job.
That's simply not the case. Anyone who's physically able to complete all of the required tasks and has the qualities and skills that we look for can join our team.
We've seen a shift in recent years where the average age of those looking to join the profession has lowered significantly and this means we have many more staff in their early 20s than we've ever had before.
It's understandable with technological advances that the industry now appeals to more and more young people and that's great to see. This is why we always welcome them into our Sentinel team. However, the people we support come from all backgrounds and ages and we want that to be reflected in the diversity of our staff.
It is the perfect job for more mature men and women who have life experience. Perhaps someone whose children have left the home or someone who took early retirement but wants to work a few hours a week. We look after you and guide you into your new career so it's never too late to start afresh.
Whether you've been out of caregiving for a year or even ten, we consider all applications on their merits and we'd love to encourage more staff back into the profession.
You might have decided a change is in order after spending years in unfulfilling roles? Perhaps caring seems like the perfect profession for you and you'd like to find out more.
Don't let your age hold you back, we certainly won't if you choose to join us.
We list all our vacancies online at http://www.sentinelcareservices.co.uk/vacancies so it's worth taking a look at which of our positions would suit you best.
In addition, we're always available to answer any questions you may have, so feel free to call Stephanie Bodkin on 0845 1298 157 or email stephanie.bodkin@sentinelcareservices.co.uk for more information about careers with Sentinel.