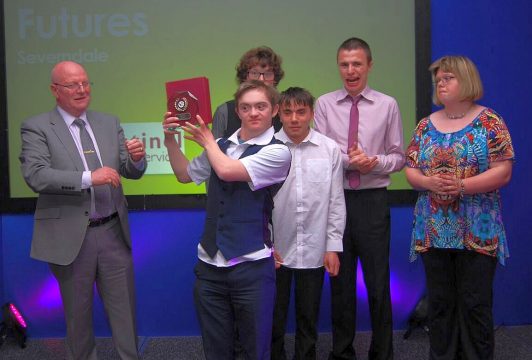 May 6th, 2016 in Blog
We've been out partying again!
It's been a good week here at Sentinel Care Services because for the first time ever we sponsored an award at the Young Enterprise awards for Shropshire, which meant we went along to the glittering event.
We sponsored a table and presented the team award at the event at the Park Inn Hotel, Telford Town Centre.
I'm Steve Harris, managing director of Sentinel, and I'm very happy to say we were very impressed with the attitude and commitment of the young people we saw there.
As well as myself we had Ruth Brown, Rachael Corbett and Vicky James from our office who all came along. There were around 300 people there in total, both young people and business leaders in the area.
It was a good chance to get dressed up and enjoy an evening out together but as well as this, we saw what great work is being done by young people in our county.
There were some really good ideas and good team work on show. Many awards were handed out and it seemed that everyone had achieved a great deal through the challenges they had completed.
We're based at Stafford Park, Telford, so it was great to be able to sponsor a good local event.
The Young Enterprise group has been running in Shropshire for 50 years. The event was a culmination of months of work in which 26 teams have created products and completed various projects.
Barbara Rainford, one of the organisers, said it was a great achievement.
She said: "Young people learn leadership and teamwork skills, they learn most about how to work together in a team and make the most of each other's skills.
"It is about employability skills and when we start handing out awards it really is an inspirational event.
"It is a way to get the business and young people together because there are not many other circumstances when these young people will actually meet the managing directors of big companies.
"It was great to have Sentinel Care Services on board for the first time this year."

And it's not just exciting for us to be involved for the first time this year too – the Regional Finals for the Young Enterprise awards will be held in Shropshire for the first time this year as well. They will take place at Shrewsbury Town Football Club's stadium the Greenhous Meadow on June 21 so look out for some more good news stories about what young people in our county are achieving.