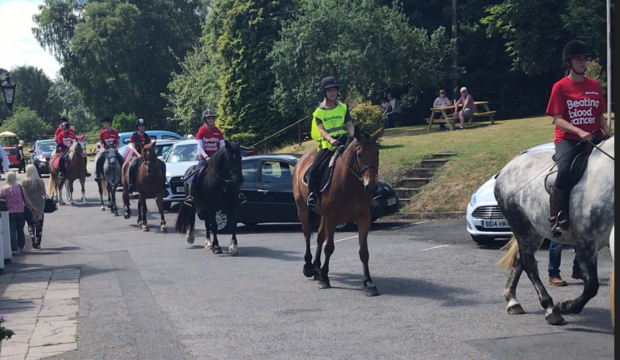 July 7th, 2017 in Blog
We are delighted to trot out the news that our team here at Sentinel Care Services raised £209.40 for charity during our mass horse ride-out in Kinver.
The money is going to the blood cancer charity Bloodwise and we thank all those who took part and those who donated cash on the day.
It is wonderful to think that at a time when there are so many calls from charities for our money, people are still happy to give when we get out and about doing something like this.
The money was made up of £35 in raffle tickets, £40 entrance fees and £134.40 in collections through the village.
People were passing money out of their car windows as we rode past them and also made the effort to come out of their houses to donate – so it was really good. A great effort by all concerned.
A special mention goes to Grace Oakley, one of our care workers, who organised the event. It turned out to be a special and memorable day and all those who took part seemed to enjoy it.
We aim to organise another one for Halloween at the end of October and are hoping as many people as possible will turn out for that one. . .and dress suitably scary for the occasion.
Bloodwise is a great cause to be helping, we arrange several fundraisers for the charity during the course of the year, and money collected goes towards research and support for people affected by blood-related disorders.