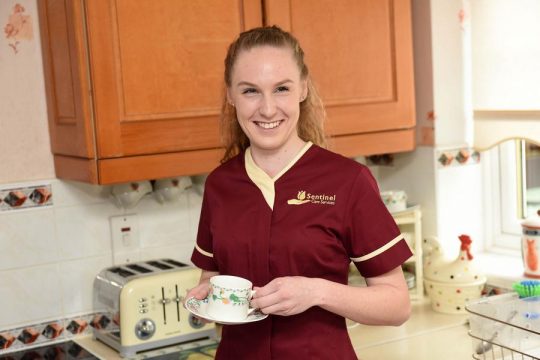 April 22nd, 2016 in Blog
Quite often people wonder what it's like to be a care worker – so we thought we'd tell you.
We caught up with community care worker Chelsea Williams to tell us exactly what it's like.
Chelsea, 18, has worked as a community care worker since January having worked as a kitchen assistant beforehand.
Start the day – My alarm goes off and I get up and ready for work. Sometimes this can be very early (like 6am!).
I check my Mobizio app on my phone – this tells me where I need to be and when, it lays out the plan for the day. I'll have the addresses of the people I am going to see and details about what care they need, what their care plan is.
So then I can set off for work.
Morning – I drive straight to the first customer's house. Typically this is someone who might need their breakfast getting ready or might want me to make them a cup of tea or have some personal care.
It's always a joy going to see the customers in the morning because they are delighted to see you, they enjoy the conversation and usually look forward to that morning cup of tea, like most people in Britain!
On the app I log what I've done so if they are seen by someone else later, the other carer knows what has happened.
Next customer – When I go on to the next customer I might see another carer there. Sometimes we double up and see one customer with a couple of carers. That is always good as we get to catch up as well and the customer enjoys seeing two people, feeling like they are being fussed over. Then we both log on the app what we have done.
Problem solving – If I have any questions or problems during my day I can either call or securely message the office and it's quickly resolved.
More customers – I move from one customer to the next making sure they are happy and have all the care they need before logging each thing I do. The app is really handy because it means I don't have reams of paperwork to complete and I can just update with a click of a button as I go through the day. It also has maps automatically integrated so I don't get lost, I do take my phone charger with me though to make sure I can charge it in the car or when needed and still do my job effectively!
More customers – As I cover one particular area I don't do too much driving between each customer so I get to spend the most amount of time with each person. It is a little stressful though when you get stuck in traffic or something else delays you, you don't want to be late for the customer.
Afternoon – The afternoon is mainly the same, more care for more people! It means I have a variety of conversations and get to meet people from all walks of life.
You would be amazed at the lives some customers have lived, but we also talk about the weather, what they are doing that day or week, all sorts really.
The conversation is my favourite part of the job, I think I get on better with older people than people my own age.
More customers – For each person you see you will have a different conversation and different personality.  Some people are very jolly and want to talk and ask you questions, why others are very quiet and reflective, you have to understand how to speak to them all. Visits can be between half an hour to an hour, depending on the needs of the customer. They will always ask you to stay for longer too because they enjoy the visit!
A change from the usual – Sometimes the needs of the customer will change so I will have to do something different. I communicate with the office and inform them of the changes then their care plan will be altered, so it's just a case of checking in on the Mobizio app again to make sure everything is changed.
More customers – I see a variety of people in a day, when there are customers who only need a 30 minute visit I get to see more people, sometimes between 14 and 19 people in one day. It keeps you moving and keeps you entertained, meeting all the different people.
End of the day – It is quite a tiring day. I make sure I am attentive to each person and with the travelling between as well, you are looking forward to putting your feet up by this point. There's no pile of paperwork to get through though – it's all been done on the app and you can go straight home to relax! Feeling satisfied that you've made a difference.