May 23rd, 2017 in Blog
Here at Sentinel we have a commitment to ensuring our new staff receive the very best treatment and training as they embark on what we hope will be a long and successful career with us.
We are particularly proud of our record in employing younger staff and while many companies see experience in the workplace as the most important factor, we believe there has to be an opportunity for young people to gain that experience by being given a chance.
There is a lot of untapped talent out there and we are pleased to be doing our bit with work placements and an apprenticeship scheme which will not only benefit those young members of staff but also the company and, of course, our clients.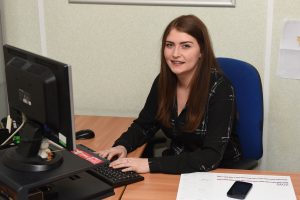 One new recruit who has come through our system with flying colours is Emily, aged 19, from Telford. Here is her story:
"I arrived at Sentinel on a five-week work placement in February last year and at the end of that asked if there were any permanent jobs going. I started part-time in our admin office and then went full-time in July.
"The job security has been really good and Sentinel look after their staff and make sure everyone is trained. I think having an apprenticeship scheme is excellent and shows the company's commitment to the future.
"I work in admin, HR and recruitment. We have a fairly small office team so we all do a bit of everything but my main job involves recruitment and administration duties.
"The recruitment role is particularly pleasing. It means meeting people, going through applications and then sticking with them through the training process and into their new job. If they have any problems or questions they come to me and it is very satisfying to feel I have helped people achieve their goal.
"I am also involved in supervising other students when they come in to Sentinel on work placement.
"Prior to joining Sentinel I had been at college studying childcare, but decided that wasn't really what I wanted to do. I enrolled on a course called New Beginnings and that led to my placement with Sentinel.
"During that placement I worked in the admin office and also sat in on training sessions for carers, so I got a good insight into how the company works, what it does and how it strives to offer the best care for clients.
"During my time at college I also worked at Matalan, but there is no comparison between what I did there and what I now do at Sentinel.
"I have a full-time job which I really enjoy, I have recently passed my driving test and am moving into my own home in a matter of weeks. Things are really looking good for me right now, I'm hopefully going to be settled here for a long time and Sentinel are a company that gives you the chance to make progress."
We have an opportunity right now for an apprentice on a special fast-track scheme. For more information, click here.