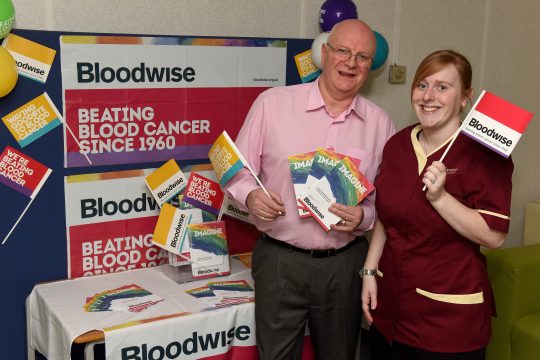 June 20th, 2017 in Blog
We are hoping as many people as possible will get behind our charity bake event in August – soggy bottoms and all!
Great British Bake-Off stars Paul Hollywood and Mary Berry won't be there but we hope many of you will as we try to raise as much money as possible for Bloodwise.
It's all in a great cause and our staff here at Sentinel will be rising to the challenge of baking some wonderful items to sell on the day. So make it a date, Saturday, August 19 at Southwater, Telford Town Centre, between 9am and 5pm.
Other attractions are being planned for the day and include a raffle for family passes to Wonderland in Telford. There will also be a selection of Bloodwise items available to buy with a view to increasing the amount raised.
In addition to the sale our car will be there filled with Bloodwise balloons and we will be running a competition on the day to guess the amount of balloons in the car. The lucky winner of that competition will receive a £20 voucher for Novello Lounge in Southwater.
The bake sale follows on from a similar event we put together in aid of Bloodwise before Christmas.
That went very well and we thought we would give it another go. It is a really worthy cause and does so much good in the fight against blood cancer. Bloodwise funds research and offers support to anyone affected by blood related disorders.
Our staff excelled themselves with their baking efforts last time and we are hoping they can do so again – we know it's something they really like doing.
Bloodwise helps in the fight against Myelodysplasia, a blood cancer known as MDS, which causes a drop in the number of healthy blood cells.
Some 14,000 people die each year in the UK from blood cancer and related disorders – that works out at an incredible 38 people a day and is the third biggest cancer killer and the fifth most common cancer.
Bloodwise say there are 230,000 people living with blood cancer in the UK and 38,000 are diagnosed each year – one every 14 minutes. Fundraising for charities is always vital to their existence and however much they receive they could always do with more. Bloodwise is a really important charity because blood cancers affect so many people.
So, come along and give us your support. We are there all day and would love to see you – and you also get the added bonus of the chance to win some prizes, buy some great cakes and help a wonderful cause.